---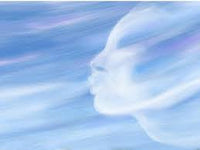 A Journey with your Breath
BlissSville
Physically, emotionally and spiritually, breath is essential to our lives.  Without breath, there is no life.  It is even more essential to life than water, food or shelter.  It is also, one of the primary ways we determine what is living and alive.
From a spiritual perspective breath is seen as the way the Divine, our soul, enters our body.  And in many of the world's traditions, Creation's breath is the force that animates us into the community of the living.  Inspiration is the way we bring in creative life force… And that life force comes into our body with each breath, whether we are consciously aware of it, or not.  When we are able to merge the unconscious with the conscious, through our breath, we become more fully immersed in this present moment.
In a Breath Journey,  we open our breath and relax our body.  We explore what is asking for our presence, our attention, our love.  We explore what is ready to be brought into our present moment awareness.
We begin by exploring where you currently are, and what your intention is for the session, and your life. 
Then you will meet the present moment through your breath and body.  You will be held and guided on a journey with your breath, your body, your emotions, and your soul.  
After, the breath session we will embody, ground, and integrate your experience, so you can bring it into your daily life
A full session, from start to finish. is approximately ninety minutes
If this is your first time, then we will want to set aside two hours to include an introductory orientation.  This is included for free to make sure your questions are addressed, and you feel safe before we begin.  
Please include your phone number in the "notes" section of your order so that we can schedule a time that is convenient for both of us... I look forward to breathing and being with you!
I just had the most amazing experience! Ariel took me on an intensely joyful journey to the center of my own heart through my breath. Ariel is an amazing guide, creating a sense of deep safety from the moment I arrived, clearly explaining the process, allowing time for me to feel completely ready, and then trusting her gentle voice and her highly-developed intuition and sense of pacing to create the perfect sound track on which to fly free. Days later, I still feel the lingering effects of this transformational bliss - a powerful yet simple way to reset one's nervous system - and the only side effects are peace, joy, and healing oxygenation!
Susan
I am feelin
g renewed, freer & happier!  I feel uplifted after the session.  It was great to let the breath really fill my body!
I feel 
rejuvenated!  I felt like a dedicated angel was watching over me.  It was one of the most powerful experiences of my life!
I never imagined I could have that kind of energy flowing through me with just my own breath!  To feel and know the pain can be released was incredible; and now I feel more relaxed!
Anne
It felt natural and relaxing, and I am now feeling open and safe.
Chelsea


Thank you for the powerful introduction to breath work!  It is a dynamic and very worthwhile process.  It felt like a much needed mini-vacation. I slept really well last night. Thank you!
Ro
I feel 100 times better physically, emotionally and mentally, then when I arrived.  I feel the breath allowing me to do some deep internal work.  I love the visions and seeing the pure beauty of life.